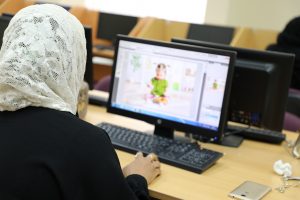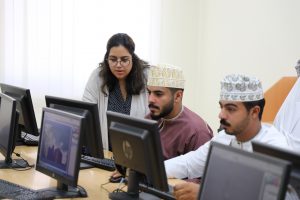 Bayan College held a Hands-on workshop for International College for Engineering and Management (ICEM) on Photography and Graphic Design courses. The Hands-on workshop is an effort to strengthen the relationship between the two institutions and expand the educational network. The event took place on 5th and 6th of March 2019 from 11:00 to 12:30 PM at Bayan Campus.
During the workshop, the organizers and participants saw cordial interaction, serving the purpose of open communication and thoughts exchange. There was a discussion on the current trends in the field of creative industry and job opportunities with such advanced skills. The event was an inyiative by the Marketing & PR Office in collaboration with the Student Affairs Office & Media Department, Bayan College.
According to Mr. MujtabaQambar Al Ameeri, Student Activities Officer, ICEM, "the event was a great initiative by Bayan College to build educational network providing students the opportunities to meet neighboring institutions and merge with them to create in Oman a learner-centered forum."
According to the organizers, the hands-on experience is an essential element of the learning system. Workshops promoting hands-on experience create a forum through which the college can be expanded and linked to the other institutions, hence building essential relationships and links between each other for human resource exchange as well as education & development exchange. The organizers are looking out for more and more institutions to collaborate with Bayan College to promote academic values and a learner-centered environment.
During the workshop, Bayan students expressed their ideas and opinions which ranged from coming up as a beginner in the field, to becoming a skilled personality through such programs and initiatives. The students explained to the participants the importance of learning additional programs and emphasized the importance of increased job satisfaction and boosted morale through such events.
Bayan College is the first private Media College in the Sultanate of Oman offering Majors in Broadcasting, Journalism, Public Relations and Advertising. The College also provides English Literature and English Professional Writing under its Department of English Studies. Bayan College operates under the supervision of the Ministry of Higher Education and is affiliated with Purdue University Northwest USA.